I WROTE THIS A FEW WEEKS AGO.

I am typing this away at 5:16AM. I am waiting for my brother to get ready as I will bring him to the station. Only a few minutes ago, I am at my balcony with a cup of warm coffee in one hand and a cigarette in the other. I observe how quiet Manila is at an hour just before the crack of dawn. It was peaceful. No pollution, no honks, just quiet but bright city lights.

And then I spaced out.

Since I passed my very last requirement of my college life, I have been living like a bum. I have waited so long to say, or even think that. The mind and imagination of a bum-who-is-turning-22-in-just-a-few-days work quite... differently.

Most of the people who know me well may describe me as fickle-minded. Well, okay, just AT certain times. Many would oppose to this statement because I like everything laid out infront of me the moment I step out of the front door.

But let us go to this so-called fickle-mindedness and I will present to you how this is in deep connection with the TV series I am currently swamped with.

I am quite amazed at how writers can actually connect with the audience and turn them into something they never plan to be. I commend people who actually turn their lives around after being hooked with some of the shows they love.

I am in the middle of the rope.

I wanted to jump up and down, do stunts, and go rah-rah-rah when I saw how glamorous Brooke Davis' life was. I wanted to paint my front door red when she painted hers. I wanted to be caught up with love and my past self. I wanted to date a basket player. I did that in highschool. It was not as enjoyable as it may seem so I had to scratch that.

Then, I saw how bubbly and witty Summer Roberts was. I then decided how cool it was to kiss someone in a Spidey costume in the rain. I wanted to date someone geeky but has the potential to be hot, as well. You know, geeky-hot sounded really awesome. I spent months hunting for a potential Seth Cohen. A package deal was what I was looking for--curly, brown hair, dreamy eyes, and library of comic books plus some other geeky, intellectual stuff that I could never possibly have known about. But, the search was tough and I had to move on to the next hunt.

I wanted to intern for a magazine, fold clothes, and style models. I wanted to write a book that is as good as watching a reality tv show because it was shallow like that. I remember my friend Aiko. We would fry ourselves under Pearl Drive heat with big sunglasses. I wanted to have a house that is only a few steps away from the beach. I wanted to wear flipflops every single day and have a bestfriend named Lo. I did not acquire any of the stuff I wrote above but one thing Lauren Conrad and I share in common is an unstable lovelife.

I find doctors fascinating. I wanted to have a "Dr." before my name. I wanted my life to be interesting, challenging, even. I wanted to take part in the "she is totally misunderstood" club. I only live once in my life and I want to live my life cutting people open for a living. I wanted the sound of the siren to be an anthem for me--something that would put me on a natural high. I wanted to work my ass off at work, eat something good for lunch, go to a bar and have a few drinks, and go home to an Alex Karev. But all the "diagnose a patient" stints, as well as the scientific "-cilins", are starting to make me hurl. I just re-read the sentence, which I am sure is not even correct, and I am sure I puked a little in my mouth. Plus, I do not think I can pull of the scrubs. I also did not want to endure the pain of losing a lover named Denny. Time of death: this dream ended with a sharp brake.

"Can I reschedule? Okay. I got it. What?! Pitch. Go. NOW. These? Latest arrival. Fab. No! That's practically a give away! Our client wants this. Yes, monkeys! Great. See you tonight. Hold. Yes, good morning, Gertrude, get me a latte" Okay, that was me in Ella Sims' Louboutins. That was me talking to a total of 10 people (7, working for me, of course) as I enter my office that, to me, is more of a home than a workplace.

Can I reschedule? - I was talking to my date, we were supposed to have lunch together.
Okay. I got it. - I was on my phone, taking down a very important meeting (where is Gertrude?)
What?! - I looked at the clock, I was 3 minutes late for a board meeting
Pitch. Go. NOW. - I was talking to one of my minions, who I expect to be one of the agency's finest
These? Latest arrival. - Someone just asked about my shoes.
Fab. - I was looking at a new sample.
No! That's practically a give away! - One of the interns just showed a mediocre sample (Mental note: kick the girl out first thing tomorrow)
Our client wants this! Yes, monkeys! - I was just showing Gilbert (in charge of the design) that our clients want monkeys as part of the ad. I do not know why in hell talking monkeys were superior over talking babies.
Great. See you tonight. - I was talking to my mom about our dinner date.
Hold - A client was at the other end of the line.
Yes, good morning, Gertrude, get me a latte - I was finally in my workspace. Gertrude: my assistant.

Just the thought of the environment sends tingles to my spine. I know I was up for that. But, now that I think about it, I was barely in my office and I had to talk to that much people in a span of 3 minutes. Yes, I would love to hear the sound of my heels clicking everyday and exhaust all of my creative juices. I, unfortunately, would not want to be caught up with the romance of a struggling film maker and a teacher. No, I do not want that.

And, I will not even talk about Elena from Vampire Diaries, you know the drill. Vampires do not exist. It is just our avid fan girl minds that made it up.

This is a really long one. I know for a fact that this is not only happening to me. And that this, is just one of the proofs of how unstable my mind is. My future is at stake here. I do not know what I want, I do not know where to start. I will struggle after June 5th, I know... but I will share them here.

Now, I am addicted to Flash Forward. Oooh. I would love to rock the bullet proof body armor.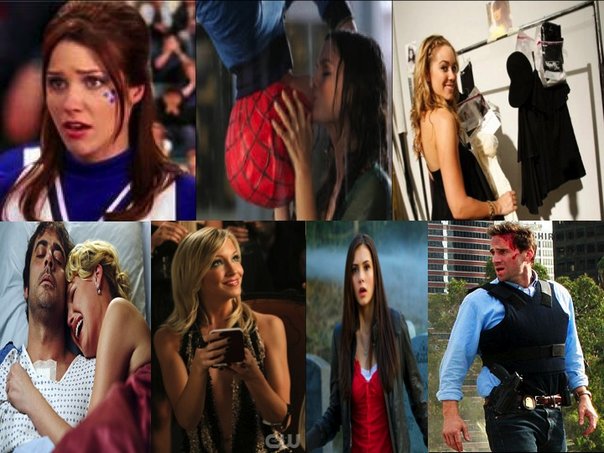 I just finished this. I stalled for weeks. I wanted this to be witty. I did not get it. Sorry.