"Say what you know and fake what you don't" – Wingwalker, The Deadly Syndrome

Prints are special. To me, print on print is too much for the eyes. The photos I will be posting below are indications of retaliation. I am gonna raise the white flag and at the same time add another dash of print.



I have been wearing dresses, shorts, and jumpsuits the whole summer. It is June, the start of a new "era" for students. I miss being one--I cannot believe I just typed that. I am unemployed.



My hair is made up of really fine strands. I struggle with my hair almost everyday--as I have posted in one of my entries, my hair comes in contact with a brush or comb once a week (tops). I usually run my fingers through it after bath. Lazy days would mean that I would just tie a knot, no bobby pins needed--yes, my hair is not normal. I tie it for 5 minutes and the above photo is the result.



I went overboard with my bracelets and rings as if the print-on-print-on-print was not enough. These rings are from Firma, Pylons (my lucky purple one), and H&M.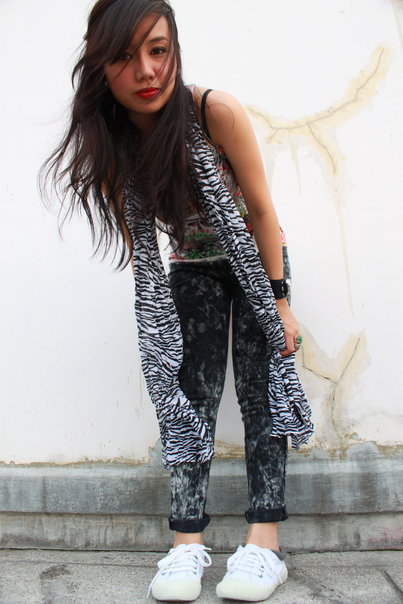 These sneaks are from Topshop, another one of my impulsive finds. I have worn it only a couple of times. What made me buy it? The thought of it coming in handy someday.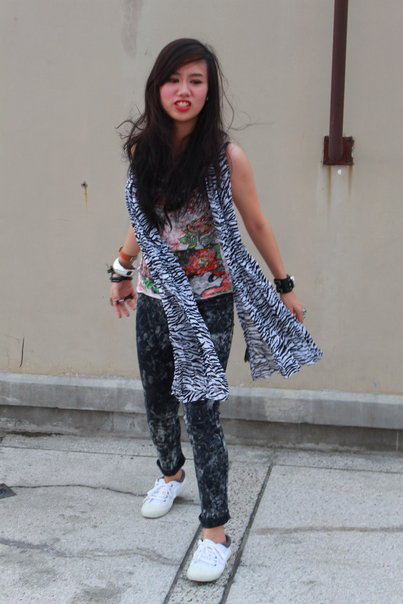 I was singing. Yes, I sing in public. I get laughed at almost all the time because I sing at the top of my lungs when a song pops in my mind. I nod my head, close my eyes, and dance a little.



It is really sad how I am not able to jump as high as I could before. I was a cheerleader all my life and we were thought how to point our toes when doing a jump or straddle. I guess Coach Tan did not do her job well. I remember she brings a microphone or megaphone everywhere. She shouted (using her megaphone): "Okay, 5...6...7...8... One, two, three, POINT! Trizia! Again!"-- I SWEAR I WAS 5 INCHES AWAY FROM HER. I was rushed to the hospital. I spent one year recovering from ear surgery as my ear drums had to be replaced. I spent after-school hours visiting an ENT. I am just kidding. But it would have been the case because it was that loud and again I WAS FRICKIN' 5 INCHES AWAY FROM HER.



I finally changed my display photo here. Yay!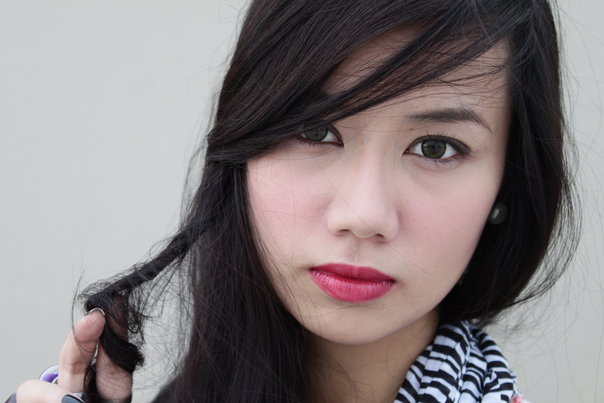 On my lips are three different brands, three different shades of red lipstick. The weight on my lips dragged my whole face down.

All photos by: Clara Tan
More deets on my look: Click HERE
Follow me on Twitter: @trizialim