I just had coffee at the nearby Starbucks with Clara, whose works have impressed a lot of my friends and people from Tumblr. Please make sure to visit her blog to see her amazing shots. Click HERE to go to her site.

I will never get over my love for thrift shops. Although I have not been in a year (my last time was during my last trip to Baguio with my friends), I still have a lot of stash of thrifted clothes to cover until my next visit. The first time I went "Ukay-ukay" (thrift shopping), my mother went ballistic. The second time I went, I could have sworn she wanted to have me on lockdown with miniml breaks during meals. The third time I went, her eyes popped out of their sockets. I was addicted--Php 1000 for a pile of used, smelly, gathering-dirt clothes. "THEY NEED A NEW HOME, MOTHER" was all I said and did not go for months. I was lonely, for a moment I viewed malls as a nuthouses, responsible for poverty. Last year, my family and I went to our annual Baguio trip (which also happens to be my birthday weekend). As I blew out the candle on my cake, I hoped for my birthday wish to be granted. The next day, I felt the luckiest girl on the planet. I went to the best place in Baguio--one huge street vomited thrifted clothes. My parents and driver were with me as I shopped the life out of the place.

This is my latest look. Again, photos are unedited, untouched but look at the bright colors brought about by the lovely world and Clara's keen eyes and amazing talent.

Inspired by yet another indie band. "Follow me to somewhere you can be. Do you know the message that you're searching?" — From A Tower, Love Like Fire



I got this green top with gold vintage buttons for only Php 25. Amazing slide of colorful balls!



You cannot see my Key and Coin gold-chained necklace but I am telling you, it is lovely. The other one is an Elephant's Tusk gold-chained necklace from THou ADorned, which I have been crazy about for ages.



These brown fringe booties are very, very comfortable to walk in. I have worn it with an ink-splattered tank from Zara and black tights. It was not the very best idea. I was Peter Pan for a night.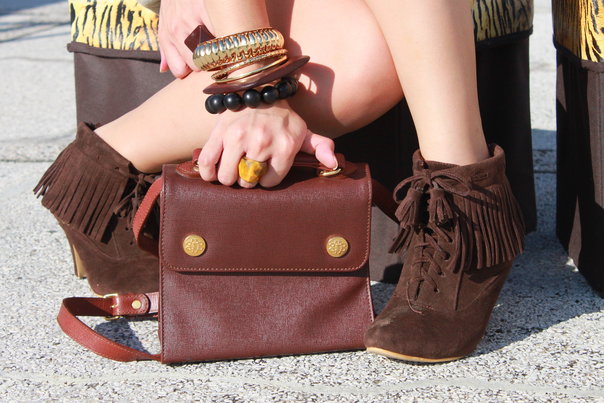 This little brown with gold button detail "attache" is at Php 200. Same purchase-birthday as my top. I died when I saw this one.



I thought it would be a change to part my hair this way. I used to have really straight hair (parted in the middle, similar to this one, in highschool). So let us just leave that part behind.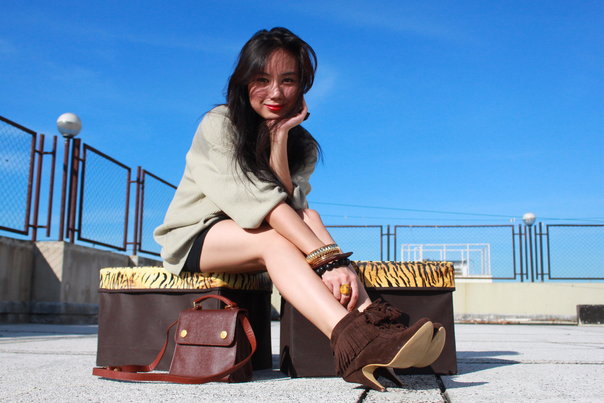 Notice the old AC at the back? My next set of photos will be taken there. I am going for the pauper look.

Check out my latest look HERE.